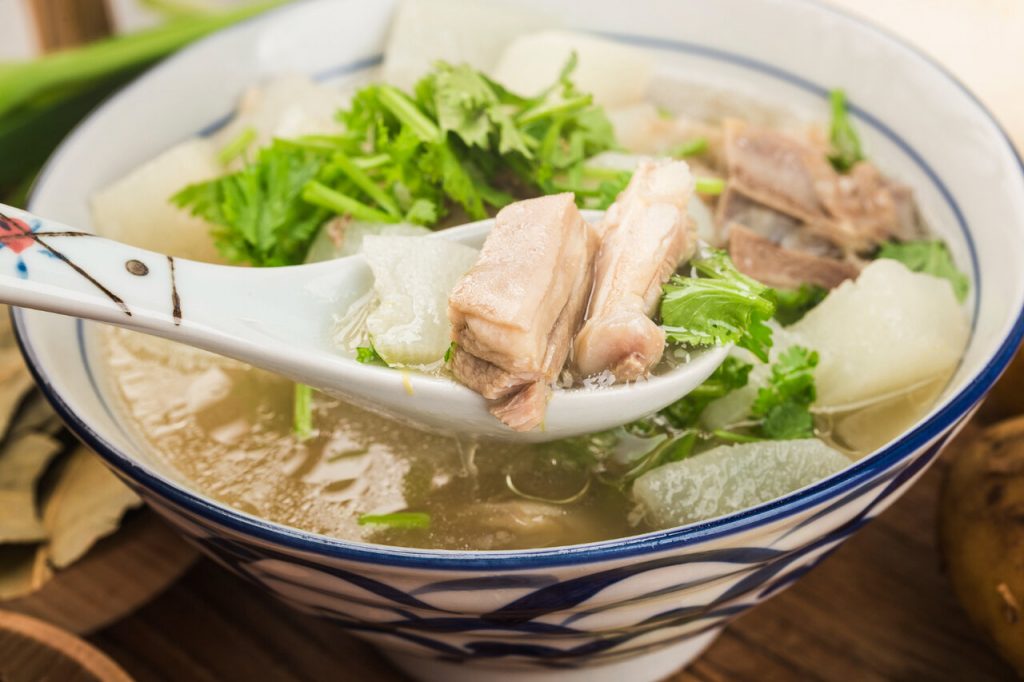 Reading as "red hill" in Malay, Bukit Merah was once an area fertile with red soil and home to vast pepper and gambier plantations. In light of the subsequent industrialization of the district, it is now Singapore's most populated planning area in the Central Region. With this, Bukit Merah has become a popular destination for tourists and locals alike. Various individuals have visited the district to explore the different cafes and eateries that have sprawled in the area.
If you're planning to visit Bukit Merah soon, here are 4 affordable food spots you must try when you swing by.
1. Chai Chuan Tou Yang Rou Tang
Located at the Bukit Merah Hawker Centre, Chai Chuan Tou Yang Rou Tang is widely known for its five-dollar Mutton Soup which garnered a Michelin Bib Gourmand recognition. Dubbed as the best mutton soup in Singapore, the dish attracts long queues which most goers would, however, describe as well worth it. Make sure to drop by early as their famous soup sells out pretty quickly!
Address: 115 Bukit Merah View, #01-51, Singapore 151115
Hours: 11:00 am to 1:30 pm daily (but closed on Sundays and Mondays)
2. Yong Chun Wanton Noodle
Craving a classic bowl of wanton mee? Be sure to stop by Yong Chun Wanton Noodle. This stall has been serving their famous wanton mee in the Bukit Merah area for more than 10 years now. In the process, they have surely perfected the dish! Made with handmade and cooked-to-al-dente noodles at generous serving sizes, their wanton mee is sure to delight. If you're not in the mood for noodles, their Wan Ton Soup and Oyster Sauce Vegetables are also recommended must-tries.
Address: 115 Bukit Merah View, #01-56 Henderson Rd, Hawker Centre, Singapore 151115
Hours: 5:30 am to 1:00 pm daily (but closed on Thursdays)
3. Bao Zai
If you're on the hunt for a good steamy piece of bao, drop by Bao Zai along Bukit Merah lane. Freshly made and handmade, Bao Zi's baos keep customers coming back for more. Pick up the char siew bao which is stuffed with succulent and smokey barbecue-marinated pork, but their other flavors, like the red bean bao and the lotus bao, are equally delicious and worth the try.
Address: 6 Bukit Merah Lane 1, #01-135, Singapore 150006
Hours: 11:00 am to 7:00 pm daily (but closed on Wednesdays and Thursdays)
4. Mr. Bakery
Cap off your savory food trip with a treat from Mr. Bakery in Bukit Merah View. Their Nyonya Tapioca Cake will surely be a delightful endnote after enjoying the strips of savory grubs around the area. Other sweet must-tries include their Coffee Boy with Cheese and their Mexico Bun. However, if you're still on a savory food high, they also have savory pastries, like their Signature Bun and Fried Curry Potato.
Address: 115 Bukit Merah View, #01-12, Singapore 151115
Hours: 8:30 am to 10:30 pm daily
Bukit Merah is a fantastic area to visit for leisure activities and a great food trip. If during your visit, you suddenly find yourself needing a loan, be sure to check out Raffles Credit, a licensed moneylender near Bukit Merah, where you can go for an affordable personal loan.