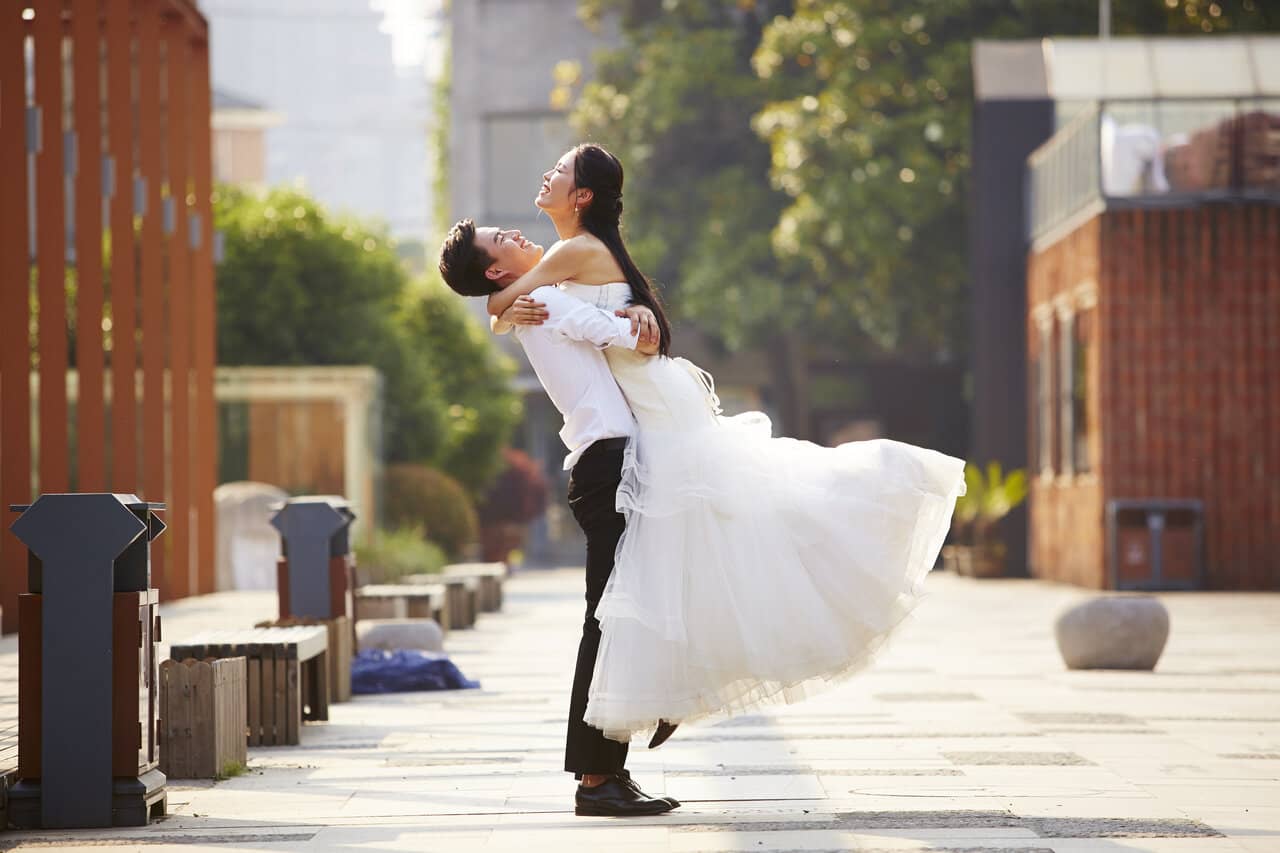 There's a magic about weddings that a lot of us have been enamored by, even way back when we were children. As an adult—when getting married is a possibility fast approaching—the realities of its difficulty become all too apparent, and that's usually because of one thing—money.
Everything is gonna cost, even your dream wedding. But don't worry, in this article, we're going to go deep into all that you may need in a wedding, from the nitty-gritty details that come up during wedding planning to the glamor and romance.
More especially, we're going to discuss what they're going to cost with some additional information, so you know where to put that matrimony money and hopefully, make that dream wedding a reality (and within a reasonable budget).
How Much Should You Save for a Singapore Wedding?
An average wedding in Singapore has an average cost of around $30,000 to $50,000. The number can go up to as high as $100,000 and even more, or as low as $20,000, all depending on the type of wedding you want and its scale.
That means your budget and costs will depend highly on the number of guests, the setting, food, decorations, and everything else that you might need in your wedding.
Here's a quick run-down of some factors that will add costs to your wedding budget:
Wedding Items

Cost
Low
Mid
High

Bridal Package

$ 3,000
$ 5,000
$ 7,000

Wedding Bands

$ 2,000
$ 4,000
$ 6,000

Wedding Banquet (100 – 150)

$ 15,000
$ 30,000
$ 35,000

Wedding Cake

$ 500
$ 750
$ 1,000

Wedding Car Rental

$ 300
$ 450
$ 600

Wedding Photography and Videography Service

$ 2,500
$ 4,000
$ 5,000

Dowry

$ 500
$ 2,750
$ 5,000

Solemnisation

$ 1,000
$ 3,000
$ 5,000

Honeymoon

$ 5,000
$ 6,500
$ 8,000

Miscellaneous

$ 1,000
$ 1,500
$ 2,000

Total Cost

$ 30, 800
$ 57,950
$ 74,600
Bridal Package
Getting bridal packages (or wedding packages) from bridal studios is great for soon-to-be-married couples as it helps tick off several things on a budget wedding checklist.
You get to rent choose from wedding gowns and suits, the services of a wedding stylist for your hair, a makeup artist, have bridesmaid dresses and groomsmen suits ready, as well as the services of a pre-wedding photographer/videographer for the prenup photoshoot.
It also has one-stop-shop options for the bride. You get to choose from a selection of wedding gowns with free altering, hair, and makeup to go along with it. Some may even throw in a spa treatment for the bride-to-be.
Wedding packages may vary in price, with the range of cost depending on your inclusions and preferences. This includes the number of gowns and the alterations for each, the venue for the pre-wedding photography session, the number of photos you want on your wedding album, and so on.
Engaging vendors on your own (also known as going ala carte)
Each of these can include at least 25 – 35 free photos for the wedding album, 3-5 wedding dresses or gowns with appropriate customisation, 3-5 suits. Costs may depend on each bridal studio and may feature more add-ons as the price range increases, from the make-up artist to
Wedding Bands
Wedding bands or wedding rings are important (and, by extension, expensive) because of what it symbolises—the bonds of couples through the vow of marriage. As the engagement ring is not part of a pair, you're going to need a wedding band to exchange with your significant other.
They may look simple, but the average cost of a single wedding band can amount to S$ 1,000. The costs can increase depending on the material and the addition of diamonds or gemstones.
The cost may seem steep, especially for sought-after designer brands like Bvlgari and Trinity de Cartier. But don't fret—you get to have and keep it for the rest of your life along with your spouse, so there's no need to feel guilty for this kind of investment.
Wedding Banquet
Weddings are a celebration of the love of would-be brides and grooms, and it's a beautiful thing that, for a lot of people, has to be shared. But one thing is true in the case of weddings in Singapore as it is to the rest of the world—the wedding banquets are one of the primary factors that can increase wedding costs.
Getting together a guest list of friends and family into a wedding venue can be costly, and the range of costs for banquets has only steadily increased in the past years. To go with it, however, there's been an increase in customisation options and menu selections.
The average wedding banquet can cost around S$ 30,000, assuming couples go for a hefty count of 150 attendees consisting of your family and friends; the average per-person cost is around S$ 200 in a 5-star wedding venue.
Wedding banquet costs will highly depend on how many guests you would invite and your chosen venue for your Singapore wedding, and even the wedding date. It is much cheaper to go for weekday dates rather than weekend dates in wedding venues.
Here is a quick list of some known venues that can be good for a budget wedding in Singapore 2022, and their banquet prices per table:
Venue
Mondays – Thursdays (Lunch)
Mondays – Thursdays (Dinner)
Fridays
(Lunch)
Fridays
(Dinner)
Weekends (Lunch)
Weekends (Dinner)
Chijmes Hall Singapore
S$ 1,881 – S$ 1,999

(12-30 tables)

S$1,881 – S$1,999

(12-30 tables)

S$ 1,999 – S$ 2,116
(15-30 tables)
S$ 1,999 – S$ 2,116
(15-30 tables)
S$ 2,116 – S$ 2,234

(20-30 tables)

S$ 2,116 – S$ 2,234

(20-30 tables)

Grand Copthorne Waterfront Hotel Singapore
S$ 1,186 – S$ 1,634

(3-65 tables)

S$ 1,398 – S$ 1,634

(3-65 tables)

S$ 1,186 – S$ 1,634

(3-65 tables)

S$ 1,398 – S$ 1,869

(3-65 tables)

S$ 1,186 – S$ 1,634

(3-65 tables)

S$ 1,516 – S$ 1,987

(3-65 tables)

Wyndham Singapore
S$ 1,069
(8-26 tables)
S$ 1,316
(8-26 tables)
S$ 1,069
(8-26 tables)
S$ 1,316
(8-26 tables)
S$ 1,069
(8-26 tables)
S$ 1,316
(8-26 tables)
Qian Xi Joy Singapore
S$ 748 – S$ 1,198
(15-120 tables)
S$ 748 – S$ 1,198
(15-120 tables)
S$ 748 – S$ 1,198
(15-120 tables)
S$ 748 – S$ 1,198
(15-120 tables)
S$ 748 – S$ 1,198
(15-120 tables)
S$ 748 – S$ 1,198
(15-120 tables)
Pan-Pacific Singapore
–
S$ 1,281- S$ 1,387
(25-65 tables)
–
S$ 1,328 – S$ 1,434
(25-65 tables)
S$ 1,492 – S$ 1,587
(30-65 tables)
S$ 1,728 – S$ 1,951
(25-65 tables)
Shangri-La Hotel Singapore
S$ 1,869 – S$ 2,928
(15-120 tables)
S$ 1,987 – S$ 2,928
(15-120 tables)
S$ 1,869 – S$ 2,928
(15-120 tables)
S$ 2,222 – S$ 2,928 (15-120 tables)
S$ 1,869 – S$ 2,928
(15-120 tables)
S$ 2,222 – S$ 2,928 (15-120 tables)
This cost can even go as high as S$95,000 if you invite 300 people to the most expensive wedding banquet venues. At the end of the day, your venue booking will depend on what suits your taste and the vision you have for your reception.
Wedding Cake
A wedding cake can be a surprisingly chunky part of the costs of an average wedding, but sometimes you just gotta have it. If you have room in your wedding budget for a good piece of layered confections, here are some estimated costs.
Depending on your wedding banquet venue, a wedding cake will usually be offered with some additional cost for some good value for money. But for a specialised custom wedding cake, you can check out this article on cake designers in Singapore here.
Wedding Car Rental
Wedding cars make up a small percent of the wedding budget, but they can also be entirely skipped for your own car.
If you choose to rent a wedding car, the cost will depend on the make and model and how many hours you'll be using them.
Luckily, there are multiple wedding car services in Singapore. Some may even cater to couples who want a themed wedding. You can find a multitude of options, from vintage to convertible, in this article here.
Wedding Photography & Videography
Technology has evolved to the point where photography is no longer limited to smile-less black and white photos and has successfully penetrated its way into everyday life. It's no surprise that would-be brides and grooms want to immortalise the memories of their wedding to look back to fondly.
In which case, they would need to make room in their wedding budget for a professional wedding photographer or/and videographer for the day to get really good results. Here is some idea of what it may cost.
Going as low as S$ 2,000 can get you a professional photographer to capture the memories of the day. Some photography companies offer both videography and photography, in which case you might get an average cost of S$ 4,000 for both. The cost will increase for longer hours and if you want pictures and videos to be taken pre-wedding and during the wedding itself.
Dowry
Singapore may be the bustling metropolis today, but being a citizen of the country means a strong adherence to tradition, especially for Chinese families. In this case, before weddings, the groom must give a dowry to his would-be bride's family—his future in-laws.
It may not apply to every couple, but it occurs enough that partners will often include it in their wedding budget. This usually comes in the form of cash gifts or jewelry.
However, some in-laws are less strict about dowries and are rather a symbolic nod to the culture. Some may even be fine with a few hundred Singapore dollars.
Solemnisation
Speaking in the context of legality, getting married really doesn't cost much. A couple of Singapore citizens can register at the Registry of Marriages for S$ 42 and S$ 380 for foreigners.
Luckily solemnisation is comparatively more casual, as a bulk of the costs for weddings are usually spent on the banquet. Suppose you have separate venues for solemnisation and wedding reception. In that case, solemnisation venues are much cheaper with only a booking fee, while having the ceremony in a church may have the couple encouraged to donate. This can be really good for a budget wedding.
You can also opt for the solemnisation ceremony to be held at the Registry of Marriages itself.
The solemnisation cost includes the booking fee and simple lunch catering, increasing as you make the occasion grander.
It's also important to note that some venues offer spaces for both the solemnisation ceremony and the banquet. Having a similar setting for both ceremony and banquet can be ideal, and it can add some value-for-money, especially if your chosen banquet venue has a space to offer.
Some hotels have really good spots for the ceremony, and the single location can make it easier for both you and your family and friends instead of having to move from one place to another.
Honeymoon
The average wedding planning stage can last for about a year. Weddings can be tough, and a much-needed honeymoon trip can be just the break you need to launch you into the life of a newly-married couple.
Honeymoons, much like any other wedding expense, will all depend on you and your preferences. Most newlyweds opt for a two-week getaway, but you can decide to have it as long or as brief as you want.
The average cost of a honeymoon can be anywhere between S$ 5,000 to S$ 8,000. This, of course, fluctuates depending on your choice of location. Many opt for overseas trips to exotic places, in which case you've got to make sure you find it in your budget.
It's perfectly fine to go somewhere in Singapore itself. The country has much to offer, and being newly married can make even familiar views fresh and new. Seeing things with the person you love can give you a new perspective, after all.
It's also perfectly fine to settle for a budget wedding and to pull out the stops on your honeymoon and visit all kinds of new places. There are several budget-friendly holiday spots overseas, even in near countries like Indonesia, Myanmar, the Philippines, Thailand, and India, but a Europe trip is also there for your exploration.
Miscellaneous
Part of Singapore culture is the ang bao, and because a lot of people will be giving you and your spouse-to-be a hand during the wedding, it's best to have a number of red packets prepared for those that helped out.
Aside from that, some expenses may pop up on the day itself that may not be obvious at face value but will spring cost on you unexpectedly. They may not seem much but might end being quite important to you or your friends and family in attendance.
To avoid being on the receiving end of a curveball, it's best to prepare for any minor costs, and it's recommended to have at least 5% of the budget as for the just-in-case.
Giving tips factors here, as well as other things that may add to the cost like wedding entertainment, corkages, and any possible after-party cost.
Fill out this form and our friendly officers will get back with your FREE loan quote within 1 hour
Total Wedding Cost and Saving Tips
In total, you can have a wedding for as low as S$30,800 to as high as S$74,600. This already a significant amount for a good wedding in Singapore.
There is no shame in wanting to cost-cut for a budget wedding. So if you want to spend less while retaining value-for-money, here are a few tips:
Opt for local locations for your pre-wedding shoot. Good research can help you find optimal yet cheap locations that can be ideal.
Don't go ala carte on some pre-wedding options as much as possible. Go for good bridal packages that offer most, if not all, that you're looking for.
Bridal packages offer bridesmaid dresses that can often be customised. This saves you on cost instead of getting dresses made.
For your wedding date, opt to book on a weekday or lunchtime on the weekend. Aside from cheaper booking, a luncheon wedding can mean your reception doubles as the noon meal.
Hosting the solemnisation before the wedding banquet can also mean you can avoid spending on the lunch reception.
Classy restaurants can be an equally good yet cheaper venue choice for the reception.
If outside influence demands a hotel setting, there are good 3 to 4-star hotel choices that are good for weddings to help you cost-cut.
Use a credit card for rebates. You can use a credit card for deals with some Singapore hotels.
It is not as much of a saving tip, but more family and friends that attend also mean a higher likelihood of more red packets. It's possible to get at least 60% of your banquet's total cost even if you choose a fancy wedding banquet location from all the cash gifts from guests.
Use your own car instead of renting. You can save up by spending a small percentage of the money on decorations instead.
Use e-invites instead of physical invitations.
Check for travel promotions for the honeymoon. You can save a lot of money with a good, timely deal.
With a bit of research for information, you can find considerably cheap honeymoon destinations that are still fun and exciting for newlyweds. Your expenses can even go as low as S$1,000!
The Bottom Line
Weddings are very special occasions that warrant considerable spending. From wedding bands to food for guests, there is a lot that you will need to prepare for.
Ultimately, however, weddings will cost as much or as little as you prefer.
You can also opt for an intimate even, with just your close friends and family, or even none at all. Your honeymoon could be two weeks at a cozy bed and breakfast with the one you love.
Or you can have a grand wedding with over three hundred attendees in the gorgeous, expansive ballroom of a five-star hotel, and you and your new spouse will fly off into an exotic getaway overseas to celebrate your marriage.
Both are equally alright and valid. At the end of the day, you're happily married. Just make sure that whatever wedding you choose, you are financially prepared.
Need extra cash for miscellaneous?

If you ever come up short or require extra spending money for possible emergencies and the like, Raffles Credit Personal Loan is your friend.
Raffles Credit is a legitimate moneylending service in Singapore. With our services, you can get a personal loan for up to 6 times your monthly income without any need for collateral or any hidden charges.
Raffles Credit understands the hassle of wedding planning. Luckily applying for a loan is hassle-free. Paying it back is even more so, with flexible payment terms, so you can focus on enjoying your wedding without the stress of financial worry.